Increase awareness of your brand and fuel your sales pipeline.
You know that a clearly developed and properly executed social media marketing strategy contributes to your growth. But do you know how best to implement a strategy that aligns with your company's short-term and long-term goals?
You don't have to be an expert in social media to win in marketing — you just need the right partner to help you harness social platforms to produce results for your marketing plan. Have you ever felt like this:
Your ideal prospects can't find you where they are looking
Your social posting content is all over the place both visually and written
You don't have time to maintain social media
The content you produce doesn't ever seem to produce leads
You feel like you are flying by the seat of your pants when it comes to posting content with no clear strategy
You don't know where to begin when tracking leads from various platforms
StructureM can take the frustration out of your work life by implementing effective social media marketing campaigns that accomplish your marketing goals without draining your time and resources or adding unnecessary complexity. Our team of marketing experts will take your social platforms from a mere array of posts and pictures to an interactive hub and community of trust that engages consumers and converts visitors to clients.
Structure Your Social Profiles Like a Marketing Ninja
If you are not seeing the results you want from your social sites, StructureM will revamp your online presence through social profile optimization. Through the proper branding, links, keywords and maximized profile information, we can drive more consumers to your site, increasing your social media's reach and garnering more likes, followers, and social interaction.
The Power of Social Media Marketing to Build Your Business
Social media marketing is an essential element to any marketing plan. By facilitating the ease and authenticity of your company's interaction with consumers, you build trust and engagement with customers who can become your brand's ambassadors. Successful social media marketing can:
Widen your range of audience
Increase communication with customers
Achieve your brand goals
Enhance your reputation
Increase your SEO
Add to your business's growth
Creating a Social Media Content Strategy
Simply posting on a variety of platforms will not produce a successful social media marketing strategy. You must research, plan and execute your strategy consistently if you want to see results that lead to company growth and an enhanced brand reputation. Our qualified team develops a strategy you can be confident will yield results by:
Creating target audiences within social media platforms (Facebook, Pinterest, Twitter, LinkedIn, Instagram)

Developing and executing a content strategy (including keyword research and content calendars)
Increasing fans and followers
Running targeted paid campaigns
Professional Facebook/Instagram Management
Facebook is by far the most used social media site by American adults. Agile, authentic management of your Facebook page is essential to a successful social media marketing plan. At StructureM, we will provide you with creative, engaging, and honest content that drives response from your target audience and increases customer interaction and trust.
Maximizing your social media's marketing potential doesn't have to be difficult or draining. StructureM can help you hit your social media marketing goals with confidence.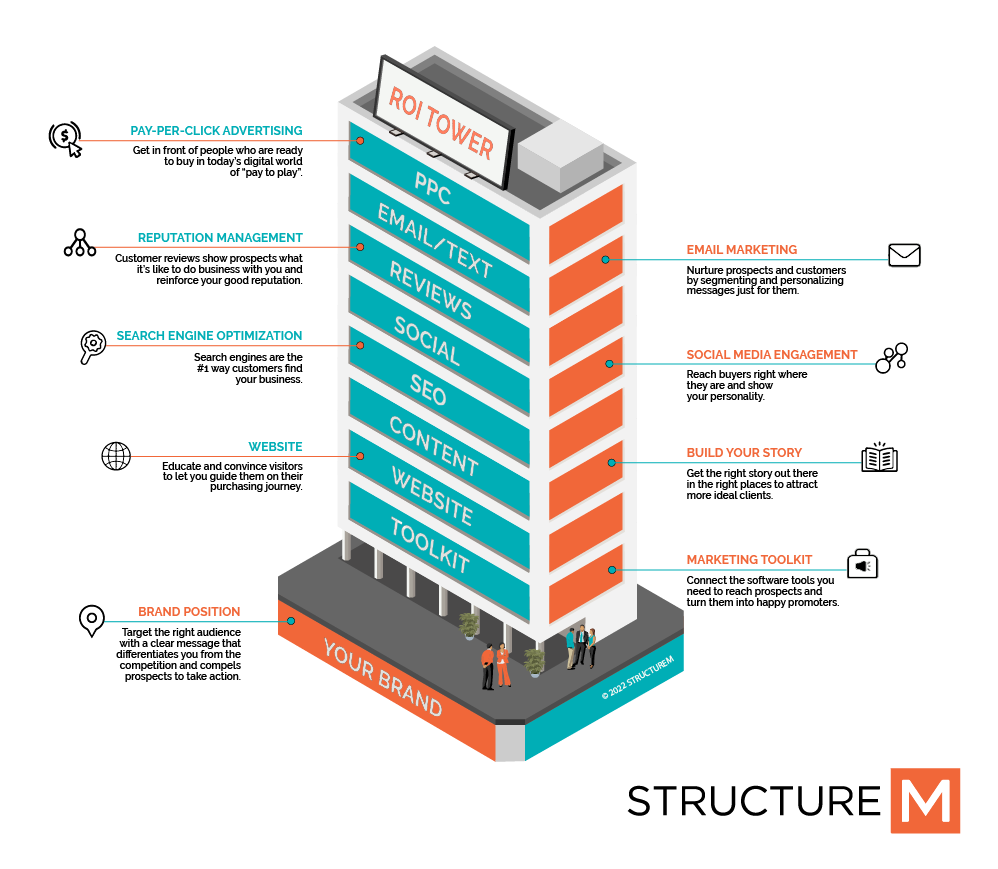 Resources To Help You Grow
Check out some of our amazing content for helpful information on your journey to success.
Digital Advertising
Here we look at why email marketing is important, the benefits of using an email marketing service, and a review of the top five email marketing platforms available.
Email Marketing
It's easy to get drawn in by the exciting new email marketing app functionalities around today. However, the truth is, you can get the same
Reputation
We've all read the stories and conversations generated by bad publicity. PR disasters can be the downfall of any person, business or entity when not
Nah… Not really. But you knew that. We will just leave this button here for you when you need it.