Search Engine Optimization
StructureM's Search Engine Optimization services help you get more visitors to your website.
Search engine optimization (SEO) can be overwhelming, especially when you're already focused on accomplishing many other vital marketing goals. And of course there are real trust issues these days with so many marketing companies claiming to be pros at SEO.
The web has gotten more sophisticated, devices have gotten smarter, and search engines have marched right along with these changes. It's easy for a business owner to be left scratching their heads.
Are You Losing the SEO Game?
Tried SEO but it never worked
Got burned by a company that promised results but couldn't deliver
Competitors are out-ranking you and getting all the traffic
Organic traffic & leads are down
Tired of putting all your money into paid ads
Don't show up in Google Map Pack
So while this is simple, it is quite a bit to think about. SEO can be very daunting to a business owner, and this is just one part of your website's SEO impact. Many simply don't have the time to take care of their online marketing themselves, and it is costing them business.
Where Do You Go From Here?
This is where StructureM can help. For 10 years we have been a growth partner with businesses, helping them succeed at their marketing.
Dozens of factors play into a properly optimized website, and we want your on-page SEO to be top-notch. To maximize your optimization, here are a few of the key areas StructureM evaluates:
Page loading speed
Cache settings
Content
Content structure
Internal linking structure
URLs
Page Titles
H1 and H2 tags
Keywords
Images
Crawl errors (404, etc.)
Sitemaps
Often, simply correcting and attending to these issues causes significant improvements in ranking.
Nearly two-thirds of your ability to rank well in search engines depends on what happens outside of your website. Do other websites know about you? Are you mentioned anywhere else online? We call this off-page SEO, and it increases your website's visibility to those needing your services. Here are just a few of the many factors involved in off-page SEO:
Proper links from the right kind of sites
Geographic relevance
Social media activity
Citations
Local SEO is a category of its own, requiring time and effort to make your business rank well in a localized search, which is essential to executing a successful marketing plan. Through a variety of factors including the proper placement of your address and phone number on site pages, a compilation of local reviews online and links to other local businesses and locations, our team will get your site desirable results in local rankings.
Does enhancing your search engine optimization really work? Yes! And we'll consistently provide verified, third-party reports showing how our on-page, off-page, and local SEO work is helping grow your business. At StructureM, we adhere to Google's Webmaster Guidelines, not employing any risky, black-hat techniques, because your long-term marketing success is what's important to us.
Don't let your web presence get lost in the crowd. Make your website stand out!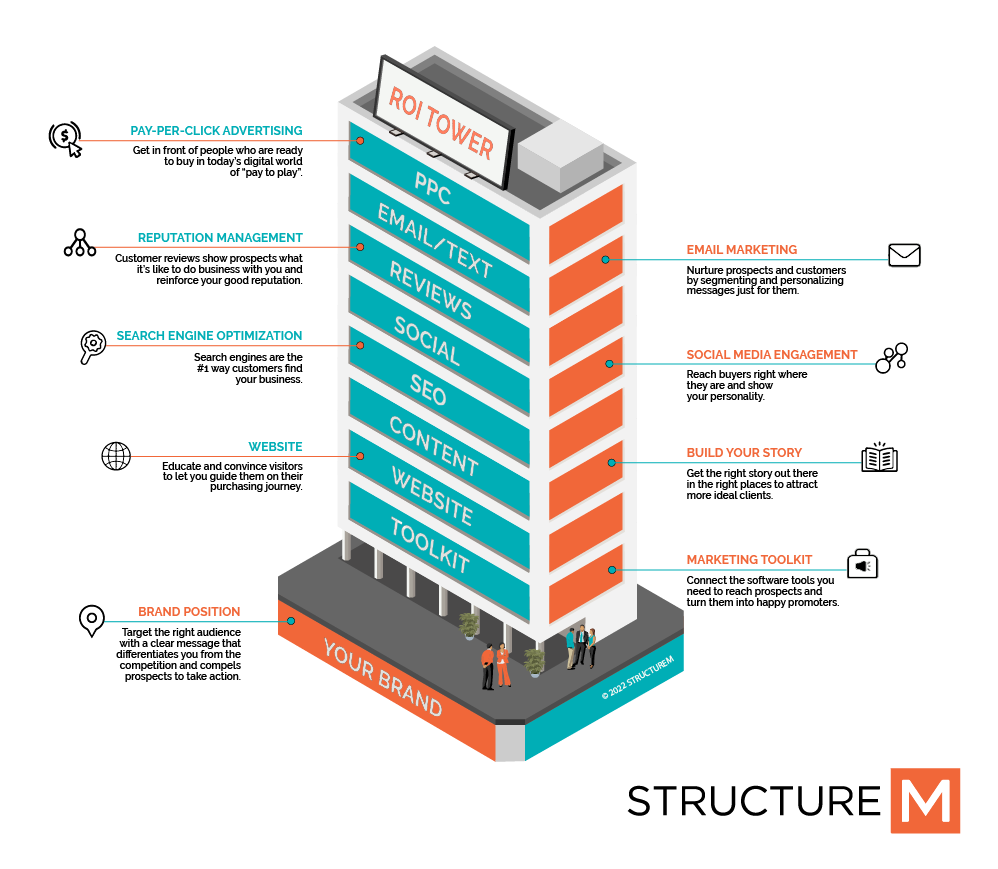 We began partnering with StructureM for our SEO optimization, as well as Storybrand Marketing. So far, we are EXTREMELY PLEASED! Everyone is so friendly, they communicate well, and they produce end deliverables that align with our brand, while also seeking to provide us the SEO performance we are looking for.
Rebecca Scott
North Georgia Windows & Doors
Resources To Help You Grow
Check out some of our amazing content for helpful information on your journey to success.
Marketing Strategy
Digital marketing is an essential tool to help franchises expand their customer base. As a result, you need to create an effective digital marketing strategy.
Google Business Profile
In this post, we'll review everything you need to know about Google Business Profile and how to leverage it as the most powerful tool in your local business toolkit.
Google Business Profile
As a small business owner, local search is an essential part of your digital marketing plan. To optimize your local presence, you need to optimize
Nah… Not really. But you knew that. We will just leave this button here for you when you need it.