Clarify Your Brand's Message
Cut through all the noise and attract more ideal prospects.
Is Your Message Getting Lost in All the Noise?
Your brand message is the foundation of a successful marketing plan. Without a clear identity and story in place, you will struggle to get a solid ROI from your marketing.
Here's what happens when your brand message isn't clear:
Disappointing results and bad ROI
Low lead quality and quantity
Disjointed & inconsistent marketing where nothing seems to work well
Employees struggle to articulate what you do and why people should choose you
Marketing is not clear and compelling so nobody pays attention
Feeling frustrated with no clear sense of direction to take
If it seems like you are constantly dealing with some or all of these problems, then crafting a well thought out and cohesive brand strategy is the answer! StructureM has a simple process to help your company "put a fence around your brand" so you can own real estate in the mind of your target audience.
Develop a Marketing Message that Drives Results
It's time to become your company's marketing hero with brand messaging that connects with customers and builds your bottom line. We're ready to partner with you.
What Makes Customers Seek You Out?
Customers need your help. That's why they're online, searching for someone who can offer solutions that work. And there is a proven method to reach them that doesn't require overcomplicated, confusing plans that frustrate your team and drain your resources.
At StructureM, we believe that the process of developing results-driven brand messaging that grows your business should be straightforward and intuitive. A successful marketing message tells your story to potential consumers in a clear and concise way, while focusing on your unique ability to meet their needs.
We help you accomplish this by crafting a storyline that addresses each of these areas for maximum impact:
Your ideal target audience & how they think
Their specific needs and pain points
How you are different and better than other options
The Right Message Engages Your Audience
Creating the right marketing message goes beyond simply talking about your products and services. Your customers must see that you understand their needs and frustrations, and they must feel confident you have the know-how to make their lives better. Yet many businesses don't have a clear, easy-to-implement framework for presenting a call to action that effectively brings in new business.
At StructureM, we use a time-tested, customized approach to crafting your brand message. In partnership with your team, we create ideal customer profiles, your differentiation "talking points, and a customized brand script that fits your message that guides your team in every piece of marketing communication, such as web development, email marketing and more.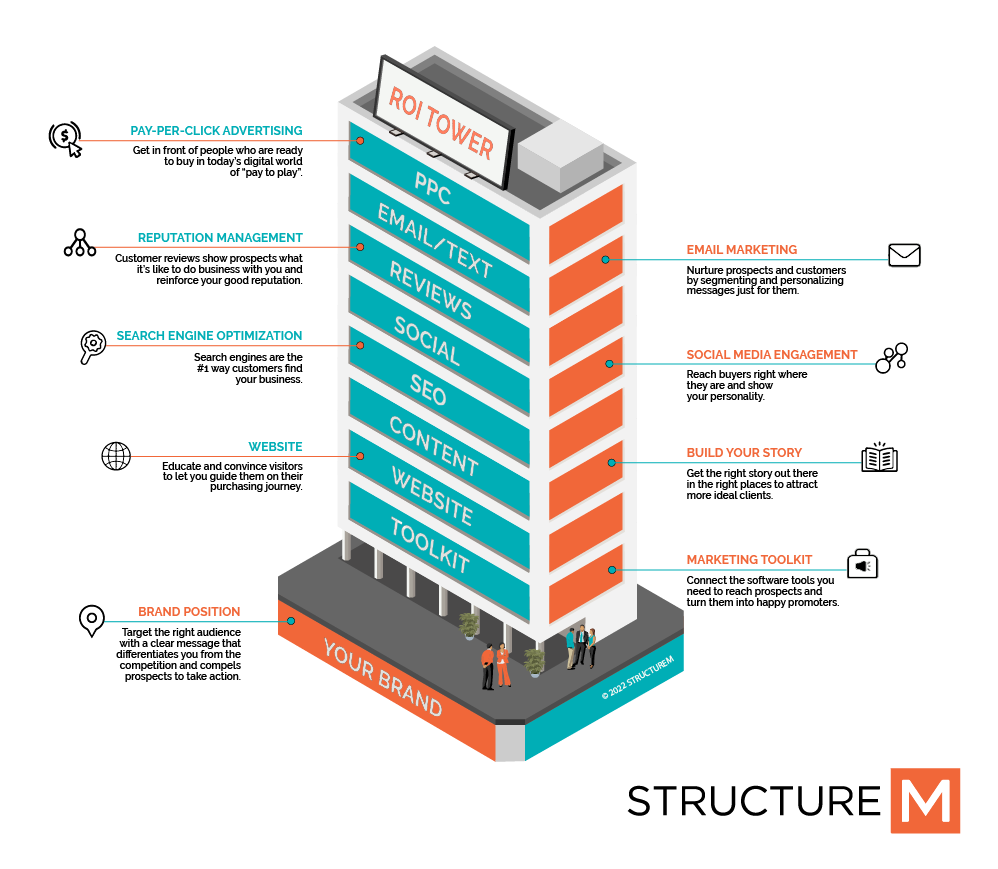 Highly recommend. StructureM is highly knowledgeable and has an expansive view of marketing in the digital age.
Maya Bogh
President, Great Northern Builders
Resources To Help You Grow
Check out some of our amazing content for helpful information on your journey to success.
Digital Advertising
Here we look at why email marketing is important, the benefits of using an email marketing service, and a review of the top five email marketing platforms available.
Email Marketing
It's easy to get drawn in by the exciting new email marketing app functionalities around today. However, the truth is, you can get the same
Reputation
We've all read the stories and conversations generated by bad publicity. PR disasters can be the downfall of any person, business or entity when not
Nah… Not really. But you knew that. We will just leave this button here for you when you need it.