More than 200 companies have chosen StructureM as their growth partner.
Scroll down to see some of the results.
Porter Family Contracting
Over 40% of Web Traffic From Organic Search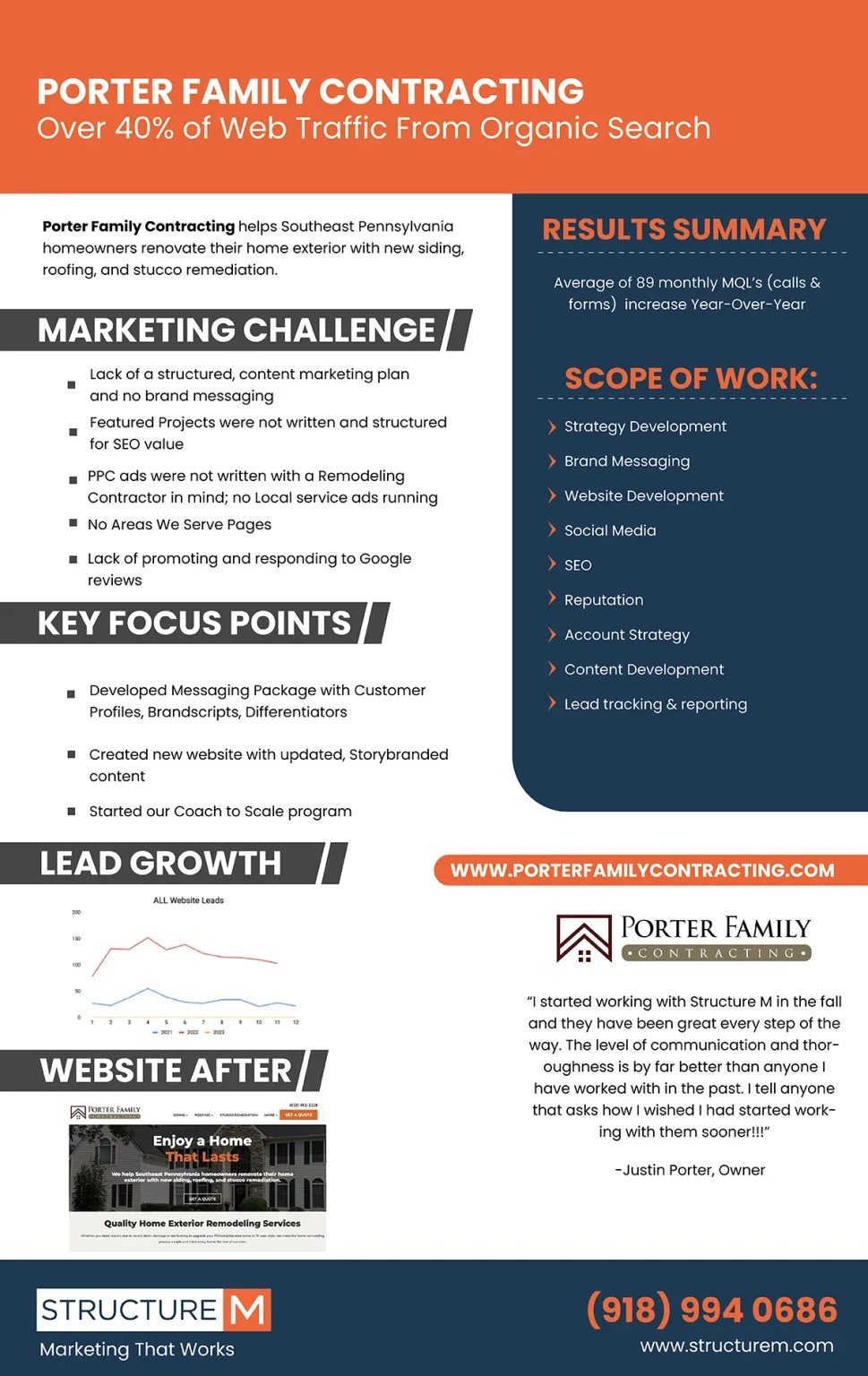 Beissel Window & Siding has averaged 32% increase in organic traffic YOY.
Organic traffic increased to over 3800 visits in 1 year.
Siding & Windows Group has experienced an organic traffic increase of 1516% from 2013 to 2021.
Organic traffic increased 457% in one year.
Auld Building Company has experienced growth year over year. They were able to gain control of their online presence and present authoritatively online.
Primary Montessori Day School
543% Growth in Organic Traffic Over Six Years
Organic traffic has increased for Proactive Landscaping 40-60% year-over-year.
Christian Brothers Roofing
In two years, Christian Brothers Roofing saw over 500 quality leads.
In two years Kelly Window & Door saw a 100% growth in their business.
Lakeside Renovation & Design
Organic web traffic has tripled due to high visibility in local search results and a strong online reputation.
Edens Structural Solutions
In the last 3 years, website traffic has grown from 1,000 to 17,000 organic monthly visitors. Revenue keeps growing year after year.
Action Builders currently receives an average of 20 high quality leads per month.
John McCarter Construction
John McCarter Construction currently receives between 20 and 40 online leads per month.
Overall marketing efforts have increased leads in peak seasons from around 18/month to 78/month.
With a new website and an effective marketing message, Lifetime Exteriors saw their website leads skyrocket, jumping from literally no leads to dozens every month.