Most businesses know how vitally important it is to get regular, positive online reviews. But the problem is you ask and ask but don't get the response from your customers that you're looking for.
We've helped lots of companies implement systems, procedures, training, and tools to improve their online reputation and the number of positive reviews that they get, which in turn results in increased leads and increased sales.
In this video we're going be talking about the biggest questions that we get from local companies and offer practical tips and advice to improve your online reputation.
Part one of this video we'll be answering two questions:
Why is it so important to get online reviews?
How do you get more online reviews from customers?
Why is it so important to get online customer reviews?
1. Reviews impact leads
Online reviews impact the number of leads you get because your potential customers are doing their research and are influenced by the reviews that they find about you. If they're comparing a few contractors or companies most time they're gonna go with the company that they trust the most, and they trust online reviews.
2. Reviews impact website traffic
The second reason is that it results in increased web traffic. Reviews affect the click-through rate to your website from search results.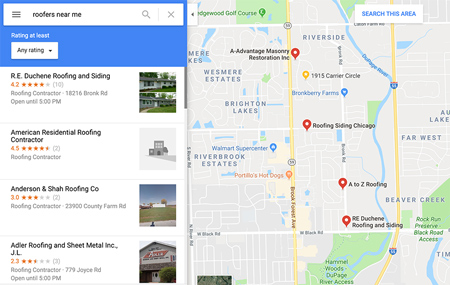 In this example, if I do a search for roofers near me you see this first result has 10 reviews. But the next results under that have two reviews, two reviews, and three reviews. Most people are probably going to click this first result because they've got more reviews and they've got a better review rating.
3. Reviews impact Google rankings
And then the third reason is that it impacts your Google rankings. Reviews affect how you rank for key search terms. If you want to improve how you rank for your products and services that you offer you need to make sure your business has a good number of positive reviews and that those reviews are related to the products and services that you offer.
Those are the three main reasons why it's so important to get regular, positive online reviews.
How do you get more good reviews from customers?
How do you improve the response rate? You need to make sure that you focus on reviews as a business as a whole and get everyone involved. If you only focus on online reviews once every six months or once every year you're not going to succeed at getting more reviews. Most companies are successful when everyone rallies around it and makes it a mission of their business. Have online reviews as a key metric that you often look at and everyone in your company knows about.
Also, to have a clear procedure, a daily operating procedure that is followed for every happy customer. You need to ask a customer at least three times for an online review. I know it can seem like you're nagging, but how we structure it for local businesses is we say the first time should always be in person. So if you're at the job site and you're wrapping up the project and the customer is really happy at that point, that is the time to ask for an online review. We suggest you hand them a business card or something that has a link to a page on your website that makes it really easy for the customer to go and leave an online review.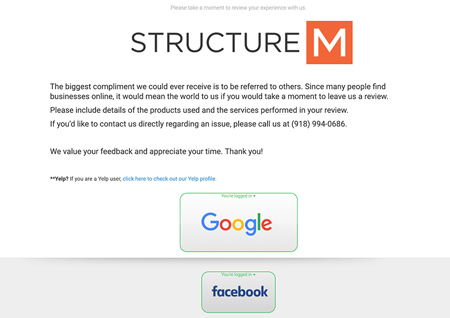 Here is an example for Structure M. It's just a web link that's on the business card. It goes to a webpage and then here it has links to all the places that you want online reviews and gives you instructions on how to leave reviews. You need to make it really easy for the customer to do.
But that's the first time, in person. The second time should be a few days later, with someone in your office calling the customer and, again, as you're thanking them and checking up on how things are going, ask for an online review at that time.
Then the third time, often, should be with a note or personalized email. For most local businesses, they either send a note about a week later, a handwritten note, thanking them for the project. Depending on the size of the project, you may want to include a gift, and at that point, include another review card that you handed out the first time, so they're getting two.
Those review cards help as a reminder, a visual reminder. People get busy, they may have got the card but they get distracted. So here are three touchpoints. One, in-person, two, on the phone, and three, on a note or an email reminding them and asking them for an online review.
We find that that this sequence results in getting more online reviews.
In the next part of our video, we're going to be talking about where should we get online reviews, how many reviews do you need to get, and what do you do about negative reviews.