Hashtags started on Twitter in 2007 and have quite taken off since then. If you're using social media for your business, you need to know that there's definitely a right and a wrong way to use hashtags. If you're using hashtags the wrong way, you're going to risk losing your user engagement.
Let's ask the big question. Is there such thing as too many hashtags? In one word, yes. Hashtags are used differently on different social media platforms.
Twitter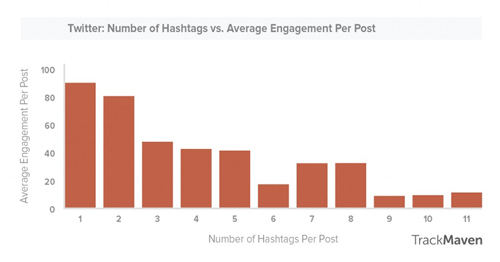 Let's take Twitter, for instance. Tweets with one or two hashtags actually have 21% higher engagement than those with three or more hashtags. Looking at this graph, you can see that the average engagement per tweet actually goes down after one, but it keeps sinking. It's a good rule to just use one or two relevant hashtags instead of more.

Instagram
Now, let's move on to another social media giant, Instagram. Instagram is one of the best places for using hashtags, as long as they use them relevantly. This study from TrackMaven shows that nine hashtags are a good sweet spot. You can see that engagement typically goes up with more.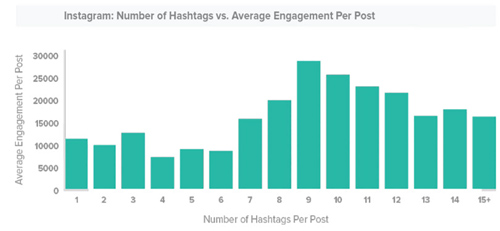 So, what does it mean to use relevant hashtags? Let's take a look at this Instagram account. This account belongs to James Hardie. You can see that they use six different hashtags and they aren't anything like, #likeforlike or #followforfollow. These kinds of hashtags will attract spammers and people you don't want following your business. The hashtags they have — #ColorPlus, #EveningBlue, #Exteriors, #Curbappeal, #Home, #Instahome — are all good hashtags for a home exterior company.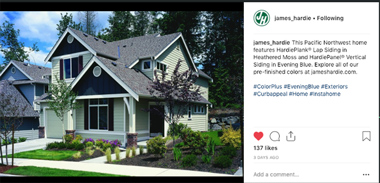 Facebook
Now that we've looked at Instagram, let's move onto Facebook. For me, Facebook is the place where I see the most mistakes. On Facebook, you really only want to use one or two hashtags. The more hashtags you use, the more your user engagement typically goes down. You can see in this overall average study by BuzzSumo, hashtags just don't do as well on Facebook. It's a good idea to stick with your brand hashtag such as ours is #StructureM and maybe use another hashtag for that day like #Thursdaythoughts or #Wednesdaywisdom or #Mondaymotivation. Just know that the more hashtags you use, the more your engagement will go down. When your engagement goes down that means not as many people are going to see your posts, which is not good for you.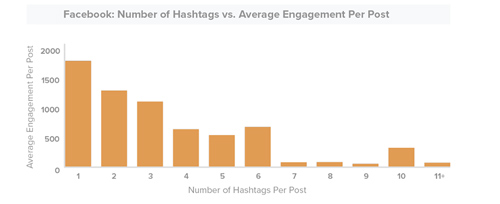 So really the bottom line is, keep experimenting with different hashtags and keep researching the best practices, and make hashtags work for you. Stay up-to-date with what's relevant and see which hashtags perform the best for your business.