Generating new leads is always a driving force for your small business. However, finding effective new ways to generate leads requires careful thought and planning. Premium content offers could be just what you need for your lead generation strategy. Offering your own unique, high-value content in exchange for your website visitors' contact information is a very effective way to build more leads.
Here our team at StructureM looks at how crafting a valuable resource or guide can be the perfect offer to entice more leads into your sales funnel.
What is a Premium Content Offer?
A marketing offer is any free product, service, or content you provide to website visitors in exchange for them performing a specific action. Premium content offers are very specific. They provide valuable, in-depth information your visitors need. The type of content you provide requires careful thought because each visitor is at different stages in their buying decision.
Therefore, premium content needs to be "next level" content that completely answers the questions your visitors might ask. It tops up the quality surface-level information you've already provided. Your premium content resolves problems for your prospects and therefore can be leveraged to build your lead email list. The trick is finding what your audience considers valuable enough to exchange for their information.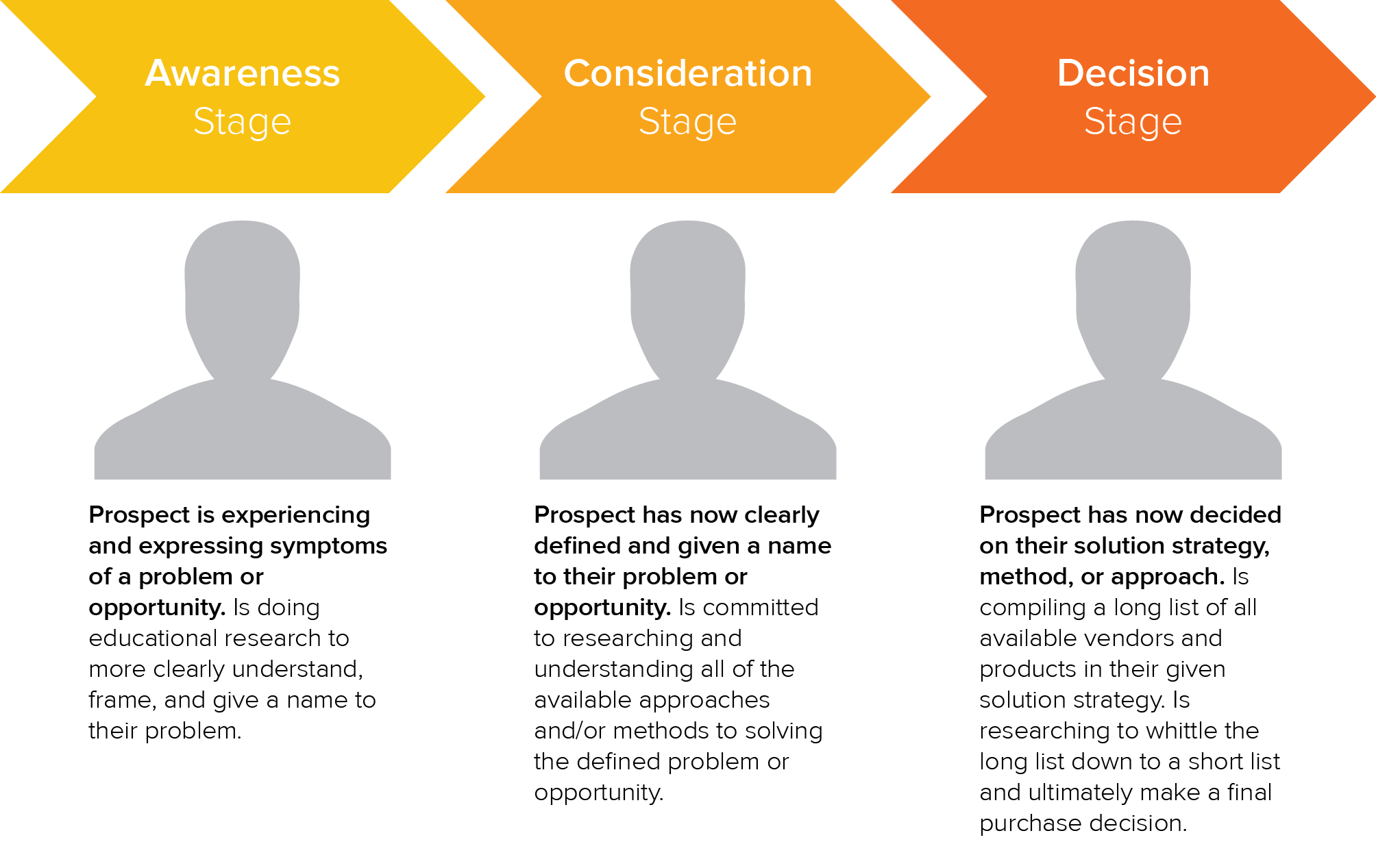 The Stages of the Customer Journey
Your goal is to match your premium content offer to the stage of each customer's journey. For example, in the Awareness Stage, prospects are in the research stage trying to understand the scope of a problem or identify an opportunity. In this case, an e-Book with a collection of frequently asked questions and answers helps prospects recognize the symptoms of their problem so they can give a name to it and come to terms with the fact they need help. In the Consideration Stage, the prospect understands their problem or opportunity and are ready to research the different solutions available.
In this case, a webinar discussing solutions works well. In the Decision Stage, a case study tells a true story about how your product or service helped resolve similar issues for your clients to help seal the deal. Case studies instill confidence in your company showing prospects they can benefit from working with you while enjoying a satisfying experience. Add a client testimonial and you have an even more powerful method of generating that confidence.
Premium Content Offer Ideas
So, what are some examples of premium content? No doubt, visitors will respond well to discounts and promotions, willingly sharing their information for a special offer. Other ideas that work well are free trial offers and tools, such as HubSpot's Website Grader which allows prospects to try a limited version of your products. These are risk-free ways your potential customers can experience your product firsthand without having to invest in them. However, these offers work better for visitors nearing the end of their buyer journey. There are several content-based options that work very well throughout the journey including:
eBooks and Guides: Guides or eBooks can either help prospects solve a problem or appeal to their interests, establishing your brand as an authority on the topic.
Webinars and Courses: Education also helps establish your authority, especially information that can help prospects improve skills, learn something new, or gain information that helps them become more successful.
Industry Case Studies and Research: Industry-specific reports and research provide readily available information that spares your prospects from wasting time doing research on their own.
Membership or Loyalty Programs: Making people feel exclusive with the privileges available only through membership such as rewards, perks or discounts is always an incentive for people to "sign-up."
Templates: Free templates offer a hard to resist shortcut that allows prospects to complete their own work without setting up and formatting documents such as resumes, proposals, and email.
Product Demos and Consultations: You can help get people off the proverbial fence with demos or free consultations that show prospects how your product or service works, while you also take time to learn more about their needs to fine-tune your pitch.
Each offer can be aligned with a different stage of the prospect's journey to make it even more enticing. These ideas offer incentives at a relatively low cost to your business yet can see a major boost in the quality and quantity of your sales leads.
What Makes a Good Marketing Offer?
Although all the ideas above work well, you need to ensure you offer high-quality content for prospects to consider it premium. Here are some of the qualities that help create premium content that's ideal for leads and nurturing:
Be High Quality and Valuable to Your Target Audience
You know people today are reluctant to hand over their contact information to just anyone. They don't want the hassle of calls, emails or texts with yet another brand trying to sell them something. Therefore, you can't expect the average person to fill out a form without getting something in return. And that something has to have true value to the prospect.
What will convince your prospects it's worth the effort to complete that form and give up their contact info? Your lead-capture form can create some friction if you don't deliver something valuable. When people sign up and receive mediocre, low-value offers, you are starting off on the wrong foot. You want people to trust your business. If you serve up subpar offerings at the beginning of the relationship, you provide a poor customer experience which will have the opposite effect on your lead generation and nurturing goals.
An offer must address the problems, needs, and interests of your target audience. Remember that what is considered valuable means different things at different stages of the sales process. So an offer to generate net new leads at the top of your funnel such as an eBook or webinar offers value because it educates your prospects and fulfills a need. On the other hand, a free product trial isn't educational, yet very valuable for existing leads you're trying to nurture. Using the actual product or service is ideal to help people finalize their purchasing decision.
Align With Your Business and the Products or Services You Offer
A great marketing offer complements the products and services your business sells. So, while an educational eBook isn't necessarily focused on how awesome your products and services are, it can address concepts that align with your paid offerings. A perfect example is HubSpot. They sell inbound marketing software, so their offers focus on helping prospects with their marketing challenges, setting them apart as industry thought leaders. Their offers are very valuable because they educate prospects about the problems their software helps solve.
Be Tailored to the Right Buyer Persona at the Right Time
A truly great marketing offer takes into account the stage of the visitor's journey. This is now the third or fourth time we've mentioned this and for good reason. What's relevant to someone at the top of the sales funnel, is no longer of much use for someone about to commit to the sale. That's the first side of the coin. The second is that you also have to consider the buyer persona's specific interests and needs as this can vary between personas even at the same stage of the journey. Tailoring to the persona and stage of the journey determines the right call to action (CTA) to use and where it should appear on your website.
A CTA prompts people to take the next desired step to complete your offer. The link can be text, but an image or button attracts more attention. CTAs convert, instead of advertise, offering direction that tells the prospect what will happen when they click through to the next page. CTAs are clear and concise and positioned in logical spots where a visitor is most likely to be ready to take the next step.
This can include your homepage, landing pages, relevant blog posts, on subpages or with relevant resource pages. So, if you have a downloadable eBook called "10 Website Design Trends" your CTA should appear on blog posts about website design, as well as relevant service pages offering website design. This makes it easy for people to take the next step in their pursuit for information.
With the proper planning, you can create premium content offers that help meet the needs of prospects on their buyer's journey. You can garner contact info to feed your sales funnel with the right offer for each buyer persona in hand with well-placed CTAs.
Do you want to learn how to increase your ROI and drive your revenue growth? Download our Revenue Accelerator now!