Your small business marketing strategy needs structure to keep it manageable and make it effective. However, if you find you are overwhelmed by your marketing, it becomes impossible to find your way through the forest and have clarity in your goals and your process.
To help you discover a viable solution for your marketing structure, we offer a structured marketing strategy designed to simplify everything and keep it in manageable, digestible bites. Here are nine key components to create a manageable marketing structure for your small business.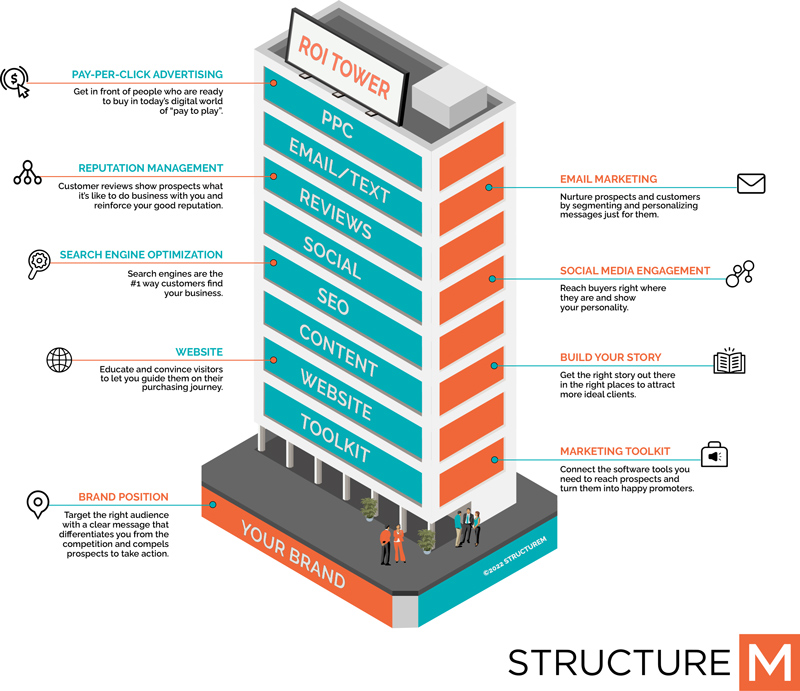 Click to View a Larger Size Image
1. Establish Your Positioning
When you establish your positioning, you can determine the ROI for all your marketing activities. So what is positioning? Positioning is the place your customers see you and what separates you from your competition. You can see why this is important because it helps develop a clear concept of both your ideal customer, as well as what makes your brand different.
If you try to use generic marketing strategies based on the similarities you share with your competitors, you lack positioning. The result is wasted marketing dollars because it is impossible for you to break through the noise. However, when you understand the pain points of your customers and the things they value, you can zero in on the right target and address their specific buying process for better ROI.
For many small businesses, this process is easier said than done. It can be hard to come up with a clear, differentiating message if you don't understand your customers' story so you can speak to them on terms they'll understand. As a StoryBrand certified guide, we can help you develop a clear brand message and differentiate you from the competition. When you understand what makes you different you can tell your target why you are their only option. Your positioning provides the foundation to build your marketing strategy.
2. Marketing Toolkit: "Tech Stack"
Feeling disoriented in the marketing landscape often comes from using dozens of different software subscriptions designed to make marketing "easier" for you. The promise of simplified marketing is hard to resist when you are cash and time-strapped. The problem with this is that you are making things worse because these software subscriptions don't talk to each other.
As a result, you've got marketing emails, Google Ads, Facebook ads, website forms, landing pages, call tracking and recording, customer databases, and whatever else is competing for your attention. Because the information is siloed, how can you possibly collect the data you need from all that noise to create meaningful information that allows you to make smart marketing decisions?
You also aren't doing your customers any favors as they have bad experiences without a "single source of truth" that brings all their information together. So what tools do you actually need to integrate everything into one comprehensive and valuable source of information? When you connect the software tools needed to reach prospects and collect data you:
Keep your sales and marketing teams on the same page
Create a smooth transition of information
Create priceless brand ambassadors with happy customers who become your best promoters
Make your life is easier
But how can you do this easily with so much invested in all these subscriptions? We can run a "tech stack audit" and make recommendations as a HubSpot partner with access to the integrated tools you need.
3. Website
If you built your website with that "if you build it, they will come" expectation, chances are you're not seeing the leads you thought you'd generate 24/7. Websites are a must, but outdated, websites that don't have a strategy in mind are too vague and ineffective to produce anything. Regardless of how someone heard about you, they'll likely go to your website to learn more. But if your website doesn't have the information to educate and convince visitors you are the answer to their problems, your website is a waste of time and money. It's not earning its keep.
If you had a salesperson failing to meet their quota month after month you'd probably (hopefully) replace them. Your website's job is to educate and convince visitors to let you guide them on their purchasing journey. If it isn't doing that, it isn't worth its weight in gold and needs to be redesigned with a strategy and purpose in mind.
4. Build Your Story
Using the right channels, you need to get the right story out there designed to attract your ideal clients. Many businesses make the mistake of creating a story focused on them when the story is actually supposed to be about your customer. When you accurately capture their wants, challenges, pain points, and desires you can use content to guide them to successful conversions.
When you convince them you are the answer to their success using meaningful, helpful content you help them make the right decisions. As long as you use the right channels, including social media, your website, and the places your ideal customers tend to go you can slowly develop an effective body of content that attracts qualified prospects perfect to feed your sales pipeline.
5. Search Engine Optimization
SEO is still very relevant and the number one way customers find your business. Free tools like Google Maps contribute to your local SEO efforts, which are critical for local businesses. The story told through your content, in hand with link-building efforts drives SEO. But it takes time to see results. Slow and steady wins the race, as long as you manage SEO properly. It's not something you can ever abandon, even if you reach the top ranking. The competition is always right behind you with a plan to knock you off the mountain. Your best defense is ongoing efforts to improve both on-page SEO through your website content and off-page SEO efforts building authority to generate backlinks to reign supreme.
6. Social Media Engagement
Social media is the place to reach buyers. It develops your brand personality using helpful, interesting posts that keep a constant drumbeat to engage your customers. You also have access to highly segmented targets willing to share your information when they see its value. This is a free advertising tool that requires upkeep but can provide excellent ROI with highly qualified leads. To see even better results you can boost certain posts to reach an even more segmented audience.
7. Reputation Management
All your marketing efforts could be for naught if you don't put effort into reputation management. You need to protect your brand. Customer reviews offer a glimpse into what customers think of you, and what their experiences with your business are like. This is important to prospects looking for a brand with a good reputation. Good reviews reinforce your reputation and confirm to referrals that they can trust you.
Considering 72% of consumers trust online reviews as much as recommendations from friends and family, you need to make sure you have a process in place to monitor and engage customer reviews and comments. However, you also have to monitor for bad reviews or misinformation that can tarnish your reputation. Being quick to respond and resolve complaints publicly, ensures you meet expectations. This is a critical element to your business systems, requiring an actual collection process to develop more positive reviews and a monitoring tool to respond to risky or negative comments.
If you incentivize your team to get authentic reviews, it will be an automatic step following each sale. You can also use automated email and text marketing to reach out to customers with a link. This makes it easy for them to rate and review you while their positive experience is still fresh in their minds.
8. Email/Text Messaging
Both customers and prospects need to be nurtured to encourage sales and long-term relationships. Each customer is at a different stage of their journey which means you should segment and personalize messages just for them. Using automation with tools like HubSpot and ActiveCampaign makes the job easier allowing you to provide ongoing information that encourages sales, while also keeping you top of mind. Providing the right information at the right time is crucial to successful email marketing and text messaging drip campaigns.
9. Pay-Per-Click Advertising
Make the most of your efforts to build educational, engaging content by sending more people your way. When you use PPC ads you get in front of highly segmented audiences who are ready to buy in today's digital world of "pay to play." Instead of wasting money on digital ads, PPC provides a budget-friendly way to control your marketing dollars. You see better ROI because you increase your odds of people looking to buy your product or services and finding your landing pages to generate higher-quality leads. You can also use tracking and reporting to follow your efforts and improve on your ads to see increasingly better results. This justifies your spend, allowing you to continue to see higher ROI.
These components are the key to success in offering a proven marketing structure for clarity, strategy and profitability.
Download a free copy of our "Revenue Accelerator Formula" to find out how you can build a strong company that can endure economic swings instead of struggling through them.