Dave Lavinsky of GrowThink.com got me thinking. He said that in order to "break free" from your business (aka stop owning a job instead of a business), the first thing to do is document all of your processes.
So I tried it.
My first map was for Print Design projects. They've always been a major pain in the rear. Usually late. Usually over budget. Always frustrating.
Two hours later I had my map, and an epiphany. There were 31 steps staring back at my astonished face. No wonder it was always such a pain. For every project, up until then, I had been trying to do all of this in my head. Of course, I'd usually miss a couple of steps and foul everything up.
Now it's all right there. Out of my brain. Repeatable by anyone of average intelligence. Just follow the process map.
Now we have hundreds of them. We used Creately to design business process maps for everything that we do: SEO Campaigns, Website Development, Pay Per Click Campaigns, Social Media Campaigns, etc. We did it for all of our client services as well as our internal process (financial reporting, etc.)
Lots of work. But what a relief! Here are the 4 big payoffs:
Standardization. This allows us to get consistent results because we do it the right way every time.
Process Improvement. My team collaborates on each process. We revise and improve them, making us more effective & efficient, and helping us to better serve our clients.
Knowledge Management. If one of our team members gets hit by a bus, etc., we know what they do and how they do it.
Automation/Delegation. Sometimes, software can handle an entire process. Or, when the team grows or responsibilities shift, training is straightforward.
I've attached the Print Project example.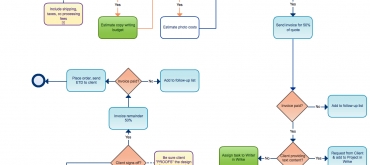 Do you have any processes you need to map out? Have a great process to share? Tell us about it!
To Your Success!
Get started on simplifying your marketing & growing your business by contacting StructureM today!